The Boutique
Choose a composition from the selection below.
You will receive an e-mail with a link to the photo of your bouquet, taken just before it was dispatched !
We deliver your bouquets throughout Britain for £6.50.
A Christmas Carol
Naturally stylish...
Aquarelle's florists composed this magnificent, delicately scented bouquet in shades of red, white and green. These generous red 'Grand prix' roses, pretty stems of wax, green brunia, delicate white lisianthus and red hypericum berries are accompanied by a handful of fresh, fragrant eucalyptus. A delightfully authentic bouquet!
White Christmas
Fresh and beautiful!
This all white bouquet is filled with stylish charm. In pretty shades of white and soft green, this refined, harmonious composition brings together generous white Vendela roses, gorgeous ranunculus, delicate white veronicas, bouvardia and santinis, with a few branches of shimmering silverbrunia and eupatorium. A glorious selection of opulent, delicately perfumed white flowers and rich textures to accompany all your messages!


Try a little Tenderness...
Another way to show you care...
Try a little tenderness with this beautifully romantic bouquet in shades of soft pinks, composed of 'Sweet Avalanche' roses, accompanied by deliciously sweet-scented hyacinths or freesias, according to the season, and graceful pale pink and deep pink ranunculus or lisianthus... and to set off this delicate composition, our florists have added a few fragrant branches of soft green eucalyptus and pretty pink wax.


Bouquet pictured: £38.00
Diameter 30 cm
From £29.00
Order now
Multitude of Roses
A multitude of 35 small, multi-coloured roses, surrounded by seasonal foliage. A classic, stylish bouquet, filled with charm and fresh beauty, these roses make the perfect gift for any occasion.
(35 roses for £30.00, 50 roses for £42.50, 65 roses for £55.00, 80 roses for £68.00)


Bouquet pictured: 35 roses for £30.00
From £30.00
Order now
Passion de Roses
One of our very favourite bouquets... a perfect harmony of flowers, shapes and colours. These gorgeously opulent roses, with their generous, delicately furled petals, have a truly romantic charm unmatched by other varieties... The three colours chosen by our florists blend perfectly to make a delicious cameo of creamy white, pink and red. Don't miss this delightfully chic, refined bouquet, guaranteed to win every heart!


Bouquet pictured: £42.00
Diameter 30 cm
From £35.00
Order now
White and Gold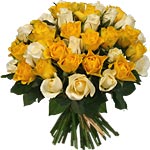 This fresh, delightful bouquet of 35 pretty white and yellow roses is perfect for celebrating the new season. These roses come from the flower fields of southern Africa; grown in the open air, the warm sunshine has pampered them to perfection. They will bloom generously and keep their bright colours for many days to come.
(35 roses for £30.00, 50 roses for £42.50, 65 roses for £55.00, 80 roses for £68.00)


Bouquet pictured: 35 roses £30.00
From £30.00
Order now
Phalaenopsis Orchid
Aquarelle invites you to share our delightfully original collection of exotic orchids... Phalaenopsis, dendrobium, cymbidium zygopetalum or cambria, these flowers offer an infinite choice of shapes, colours and textures, guaranteed to make you dream of distant shores... Let Aquarelle bring a touch of magic and exoticism into your home with this graceful, delicate orchid.


Height 35 cm
At the set price of £29.00
Order now